Choreographer Twyla Tharp referred to "muscle memory" in regard to dance moves, positions. If a dancer practices, repeats sequences enough, the muscles remember. I think of "muscle memory" in regard to how to put paint on canvas. If an artist makes enough brush strokes in her life, an internal knowingness makes future strokes easier. And will "muscle memory" take over when blocks to painting appear?
I have been trying to start the last painting in the series, "On the Fence."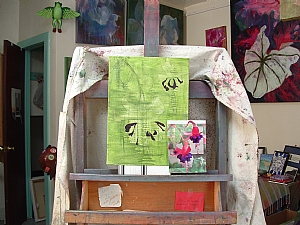 The sketch is in; the dark colors are the advance team and they are ready. And you can see the luminous colors of the Fushia in the go-by photo. There are not "fences" blocking the way. The blocks are only my own.
Stuart Lord, President at Naropa University once said: "Show up. Make things happen. Get things done." I keep that quote on the wall at my studio. I show up; I make things happen. Sometimes "getting things done" lags behind. Fear of what next? What if the painting is not successful? Do I feel the need to be in process, in the flow? If I finish will the flow stop?
I continue to go to the studio. I work on other projects. Paint mixes and flows all over my palette, and onto canvases. I prepare for the moment when I get things done.
Patricia
PS: I have been painting Mushrooms today; the colors are pretty subtle! Maybe working with earthy colors will be the impetus to finish the Fushia.